www.PallasAtheneSoap.com
Accessories Menu • Contact • Home • Prices • Products • Purchase
Large Soap Tray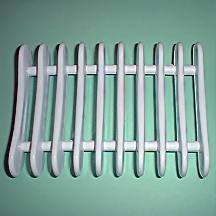 Available in Clear or White
This hygienic soap tray enables the soap to dry quickly, which makes the soap last longer and inhibits microbial growth. Soap tray may be used alone or placed inside a soap dish. Made of durable plastic. Available in clear or white. Tray dimensions are approximately 3.00 inches by 4.00 inches; the perfect dimensions to hold 8.0-ounce gigantic size or 4.2-ounce regular size bars of soap. Also accommodates 1.25-ounce guest size bars of soap. Soap trays sell very well at craft shows alongside handmade soap; wholesale prices available.
Accessories Menu • Contact • Home • Prices • Products • Purchase
Last updated March 25, 2016.
webmaster@PallasAtheneSoap.com
Copyright © 2000-2016 Pallas Athene Soap. All rights reserved.
Pallas Athene Soap is a subsidiary of Acute Soap Enterprises, LLC.